This year, Doug Fish has stepped back from his role as Fish President. While we're going to miss his leadership, we understand his wanting to work on something new – Doug's been in the business for 35 years and he's excited about his new projects, Snowvana and IndyPass. Doug has stayed on at the agency as Chairman but was more than confident handing over the presidential reins to Nate Parr, who has been Vice President for five years and at the agency for all of its 16 years. That left our Director of Brand Partnerships position open and Nate thought there was no one better to fill that position than Lacey Hinkle, who had been a Brand Director for some of our largest clients.
We decided to have a little chat with Lacey and Nate to see how they were planning to tackle their new roles.
FISH: Nate, when you started at Fish 16 years ago, did you ever think you'd be president?
Nate: Oh, god no. We worked in an office the size of a garage and I was young enough that I didn't think about anything long term. I was an intern and I wanted to get my foot in the door of the snowboarding industry and Fish was a great opportunity. But the idea of working on one brand all day, every day was frankly a little boring and I loved the variety that an agency offered.
FISH: You were VP at the time Lacey was hired. What made you hire her?
Nate: She had worked with our Operations Manager in the past and I interviewed her and she seemed pretty perfect. I called her former boss, Ed Henrickx and he said she was okay.
Lacey: Did he say that? That I was "okay?"
Nate: He might have used the word "exceptional," I don't really remember. Lacey really impressed me – she asked really good, smart questions and seemed like she'd bring some great structure and new ideas to the agency. After talking to her, we canceled the last two interviews and made her an offer.
Lacey: That sounds more accurate.
FISH: Lacey, what are you hoping you'll be able to do in this new role?
Lacey: I don't think we need to make a ton of changes at the department level – I love how Nate is a hands-off manager, trusting his team to do the right thing and correcting when necessary. I'm really happy to be in this role so I can have more say in where the agency is going—the clients we're going after, the projects we focus on, that sort of thing.
Nate: Our management approach is pretty similar – we let people create their own paths. Some people thrive on that and some don't, and you can tell pretty quickly which type of person they are. Not everyone's a great fit at Fish.
Lacey: You get a lot of room to find your own footing and do things your way here. It's nice to feel like you have some leeway. For the past couple of years, Nate had a team of Brand Directors and I have a team of Brand Managers, so I'm a bit more hands-on than he was, but I'm really enjoying it.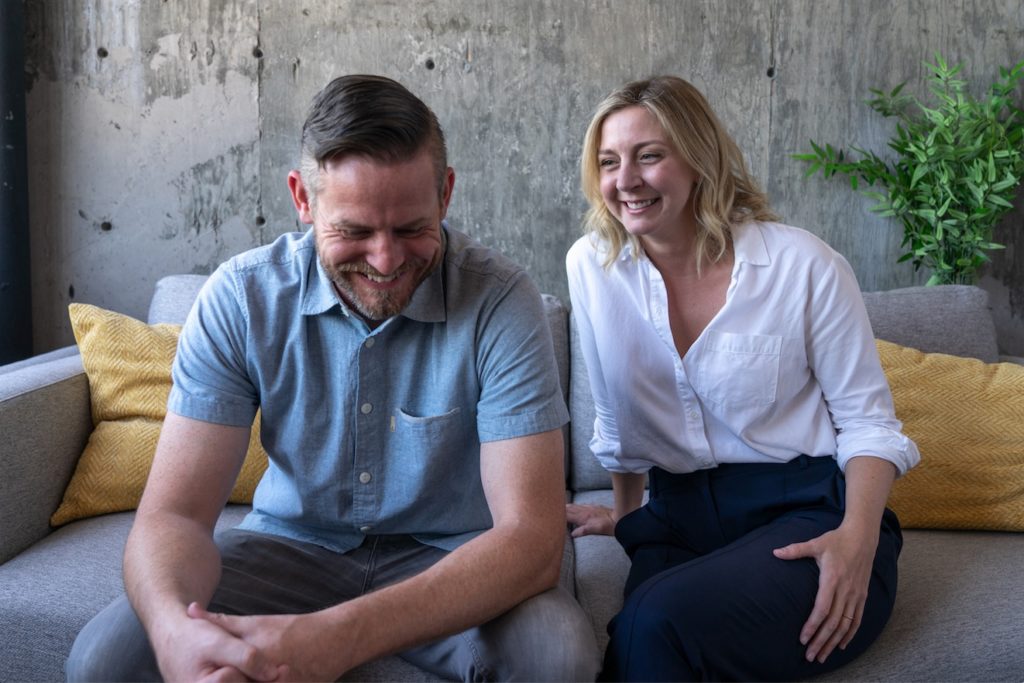 FISH: Nate, now that Doug has passed you the baton, how do you see Fish changing?
Nate: I see it continuing to evolve. I think we're lucky to be in a nice growth mode and I see us being more selective with the partners and industries we choose to work with. We're establishing a good foothold in the "lifestyle" space and besides that, my goal is to have a strong, collaborative leadership team that really listens to our employees. If we all work together, I think we'll continue to grow.
Lacey: And we'll definitely grow now that I'm the Director of Brand Partnerships.
Nate: Can you write that down, that she said that? I'm going to hold you to that, Hinkle.
FISH: Nate, you used to head up Lacey's department as well as being VP and now she comes to you for advice on how to run her department. How do you see the two of you working as a team moving forward?
Nate: Lacey keeps it fun, but she's a serious businessperson. She's solidified our systems and processes. And while our management style is mostly the same, we have very different approaches to problem-solving, which works out really well—if I need help with an issue, she'll come at it quite differently and vice versa. I don't think there's a problem that at least one of us can't solve, so we work well as a team.
Lacey: World peace. We might have trouble with world peace.
Nate: But that's it.
Lacey: That's the only one.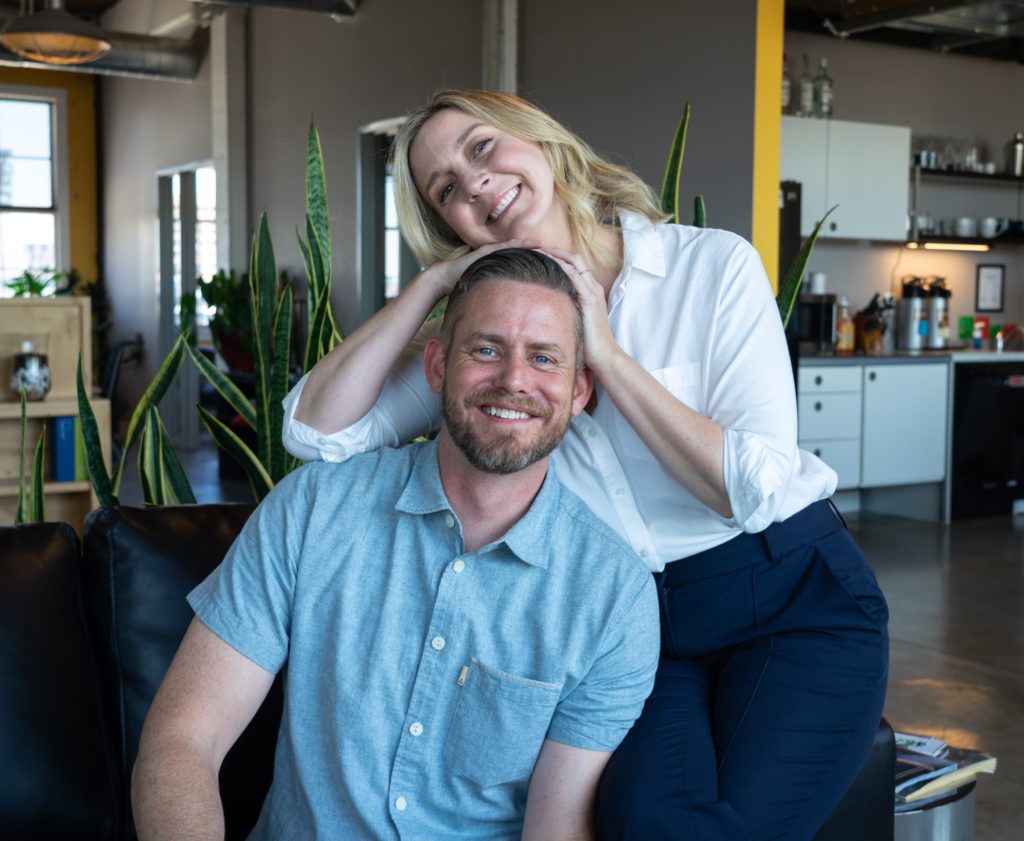 FISH: Lacey, how do you feel about Nate's new presidency?
Lacey: All kidding aside, I'm really happy about the direction the agency is going. Nate has a reputation for sometimes being a little sarcastic, but he's whip-smart, one of the most intuitive people I know and a great mentor. As an agency we've had a lot of clients with small-to-medium-sized businesses, which we love, and now we're also really looking forward to working with some of the regional businesses we've taken on. The skills we've honed over 16 years apply really well on a larger scale.
Nate: They do, and because we're a full-service agency, our clients can get the most value the more of our services they use. It's like a value meal, but instead of a free prize, you get amazing things like increased market share and more targeted messaging. And, because we gain valuable insights on all aspects of a client's business from their brand to their creative to their media, we're able to be a true marketing partner.
Lacey: That sounded surprisingly smart.
Nate: You know I'm the president now, right?
Lacey: Really? Congrats!
Nate: In any case, I'm very excited to see what the future holds as we move forward. We've got such a strong team, and it's only getting stronger.
If you want to learn more about Fish Culture, click here to check out other blog posts!