This year, we're celebrating 15 years since Doug Fish had the audacity and spirit to start Fish Marketing. If you're counting, that's 5,479 days, 217 clients, one Guinness World Record, and 15 office dogs.
Fish Marketing began in January of 2003 in the basement suite of a building off Multnomah Boulevard on the Max tracks in Portland. Doug had just left Gard and Gerber to strike out on his own. He'd owned his own business twice before and couldn't shake the desire to do it again.
"My wife's design business was going really well," he said. "But I couldn't quit trying to run that, so I started Fish mostly to keep from driving her nuts." 
Doug says that he knew owning his own business was far more of a challenge, but that that was part of the draw—because he was ultimately responsible, the losses were more bitter, but the wins were so much sweeter that it made it all worth it.
The agency began as a one-man operation with just three clients: The Portland Roadster Show, Mt. Bachelor, and Salomon North America.
Fish had two more employees by June of their first year, who were then joined by Nate Parr, a senior at PSU who answered an ad for an intern. The agency appealed to him because he was a powderhound and they seemed focused on snowsports. Fifteen years later, Nate is still with the agency and now a partner and Vice President of Brand Leadership.
"We were scrappy back then," Parr says. "If it wasn't account management, I did it—IT, writing, PR, media buying. I learned quickly how to get good work done in the real world on time and on a tight budget."
While the advertising world is often painted as a land of excess, both Doug and Nate came to Fish with a penchant for finding innovative, cost-effective ways to get things done—saving clients money in the process. Nate learned this as a student at PSU, where they created entire integrated campaigns with very few resources. Doug learned it in the music business, where he'd get $1000 and ten front-row seats to sell out a show. That's also where he learned about clearly defined metrics.
"In the concert industry, you have a clearly defined goal," Doug says. "Sell all the tickets. That helped me to be very results-focused from the very start."
As Nate worked with real clients for the first time in those first five years, he, too, learned how the reality of working in advertising differed from what they'd learned in school. At PSU, they'd worked mostly on large-scale brand awareness campaigns, but he soon learned that most businesses don't have that kind of money to invest. So he, too, became results-focused very quickly.
"Small business and event promoters can't use a huge portion of their budgets for brand awareness," Nate notes. "If they invest a lot of money, they're going to want it to make them a lot of money, and not in three years. Like, now."
As time went on, the agency diversified their client base to resorts, real estate, events and retail and by 2008, their client base had grown quite a bit along with the real estate market.
When asked what wisdom they gained in those first five years, Doug and Nate have similar answers.
"It's very simple," Doug says. "If it doesn't sell, it's not good advertising. If it doesn't achieve a stated goal, it's not good advertising. Period."
Everyone loves a funny campaign, or an edgy, memorable TV spot, but if it doesn't sell product, it's not doing its job.
"When you start a project, you have to all agree on what success looks like," adds Nate. "Is it 20% more Facebook likes, or is it traffic and sales? And how are you going to measure that? Because if you can't measure it in some way, it didn't happen."
So, agencies, consider putting your goals in your Statement of Work to ensure that everyone's on the same page before you start work. It can feel like a risk in the new world of easily measured metrics to be held accountable, but that way both you and the client know when you're on the right track—or the wrong one—and need to re-evaluate.
Coming up next time: what happened to the real estate market in 2008 (hint: it wasn't good) and how Fish reinvented itself.
FUN FISH FACT: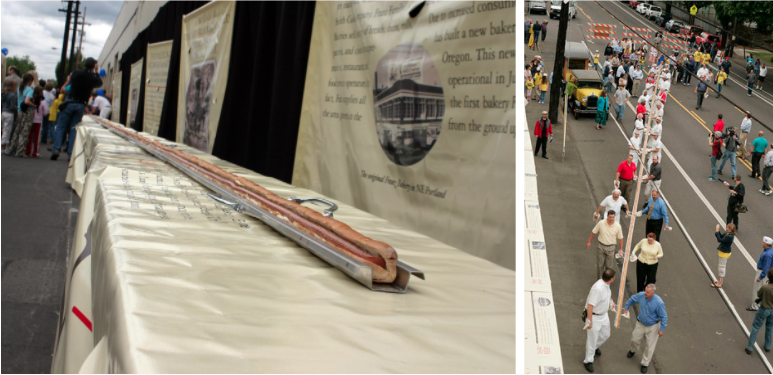 On July 6, 2006, Fish Marketing lead Franz Bakery to celebrate their 100th Anniversary by creating the world's longest hot dog (and hot dog BUN) at 104.75 feet. The hot dog was carried across the Willamette to Pioneer Square where free normal-sized hot dogs were served free to all comers. The event garnered Franz over $250,000 in earned media.