Driving by a billboard, watching a commercial or walking into a store; which of these is going to leave a more lasting impression? On Facebook, most advertisers use single image ads or may have experimented with occasional video ads. You may not know that Facebook offers a more premium, immersive ad unit that can be as impactful as a visit to your store: Facebook Canvas.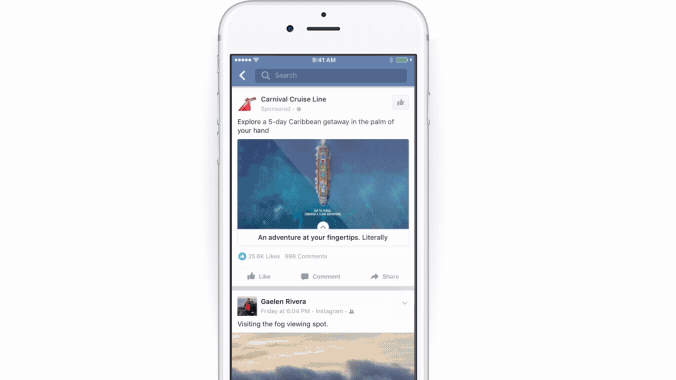 Facebook Canvas is a rich media ad unit that incorporates images, video, shopping galleries, interactive elements and more into a landing page-like experience within the Facebook mobile app. Initially, a Canvas ad appears in the Facebook app News Feed with a clickable image and a call to action. This leads to a rich, fullscreen experience that can be swiped, tilted and zoomed to see its ad content. A Canvas ad can be built to resemble a landing page, entirely within Facebook, and is quickly loaded as it is pre-cached with the rest of Facebook's content. It's also relatively easy to create a Canvas ad. Facebook allows you to plug in the different content elements to its template structure the same way you would build a single image or video ad within Facebook Ads manager. You can preview this simple creation process from Ads Manager or view their help guide here.
Click above for three case studies of Facebook advertisers using Canvas ads in their campaign.
Canvas sounds great in theory, but are Facebook Canvas ads right for you? As an opportunity to create a memorable, lasting impression on a potential customer, no other Facebook ad unit can compare. When a new customer encounters your brand through a gorgeous, interactive fullscreen experience, you will be remembered. The question becomes what are your goals for your ad campaign? Brand building and awareness as a business goal is perfect for Facebook ads and Canvas is the cream of the crop. However, if your campaign goal is to sell your latest product, then Canvas is less likely to generate immediate sales and direct traffic. Driving potential customers to a rich, in-Facebook experience rather than directly to the point of sale would be a mistake for this type of campaign. At this point if you're asking, "Why would I advertise if I didn't want to drive sales?" you may need to re-examine your marketing strategy. Building awareness is as vital to success as converting to sales. Growing your audience to sell to a wider range of customers is the action Facebook Canvas ads can support.
Your choice of ad units on Facebook may seem daunting. You may feel more comfortable sticking with the single image ad you've always created. However, options such as Facebook Canvas are not as daunting as they may first appear. No matter the size of your company you can create gorgeous, "premium" ads with the right tools and the right agency. To get started building the right ad campaign for your business, enter your name and email in the form below.