Remember when you slogged through your commute every morning and dreamed of working from home? Well, here we are. 
As much as working from home may feel difficult right now, remember that we are the lucky ones. Millions of people filed for unemployment last week and first responders and medical personnel are on the frontlines of this virus. We are so grateful for their work. 
You've probably read this in other places, but the #1 piece of advice that will help you to differentiate your work/home time is to shower and dress every day as if you're going in to an office. This gets you into the mindset you need to be in to work. Plus, you'll be hella buttoned-up on those Zoom calls. (You can also choose to go Business on the Top, Jammies on the Bottom – whatever your work uniform is, work it!). Setting strict business hours will also help with this.
Beyond work/life differentiation, there are some other challenges to working from home and we'd like to help you address them. 
1. No office.
If you have your own office in your house that's perfectly de-cluttered, ignore this one. 
But if not, you need to create an area to separate your living space from your work space. Even if it's the smallest corner of a room, designate it, unclutter it, and set it up as if it's your desk at work. Make sure you have all the things you need, like a calendar, to-do list, pens and that awesome pen holder shaped like a corgi. 
Then, at the end of the day, close your laptop and leave your work "at work." This will do wonders for your mental health.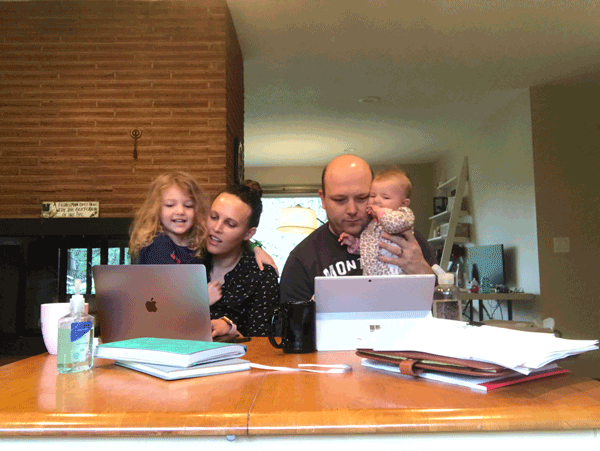 2. Your Partner as Co-worker. 
So. Much. Togetherness. 
You eat breakfast together and take on the 10-second commute to the dining room table, your shared office or your chosen end of the couch. And everything runs smoothly until one of you has a conference call or sees something hilarious on YouTube that you have to share. 
Conference calls should be addressed first thing in the morning. Go over both your days and when meetings are scheduled. If there's a second space in the house, decide who has to move for each one. If you can't move, and listening to your partner discuss optimizing enterprise servers is somehow making him less attractive to you (and distracting you), we highly recommend plugging in your headphones and putting on a white noise YouTube video. 
And as far as distractions go, act as if you're actually in the office, where of course you can periodically show your coworker videos of dogs who have finally caught their tails, but do it judiciously. Focus is a precious commodity when working from home. 
Some of you may be thinking, "But what if my kids are my co-workers?" Well, that's a post all on its own. Vox did a pretty good job of it. Suffice it to say, those of you who are working from home with kids, you're killing it. Seriously, no matter how it's going, if you haven't run out of the house screaming, driven to the closest train station and gotten on, you're killin' it. 
3. Remote meetings.
The first and most important rule of remote meetings is—and we cannot stress this enough—MUTE YOURSELF WHEN YOU'RE NOT TALKING. 
Sounds that you make on conference calls are significantly louder for others than they are for you. Doing dishes = Niagara Falls. Opening a drawer = chainsaw. Opening a bag of SmartFood = an asteroid hitting the earth. So mute yourself! 
Other tips: 
Allow catch-up time: when everyone is working remotely, it's hard for everyone to stay connected. Give each meeting a little time for everyone to show new pics of their cat being cute or the new recipe for sourdough bread they're trying. (Sidenote: WHY IS EVERYONE MAKING SOURDOUGH BREAD IN QUARANTINE? Please answer in the comments.)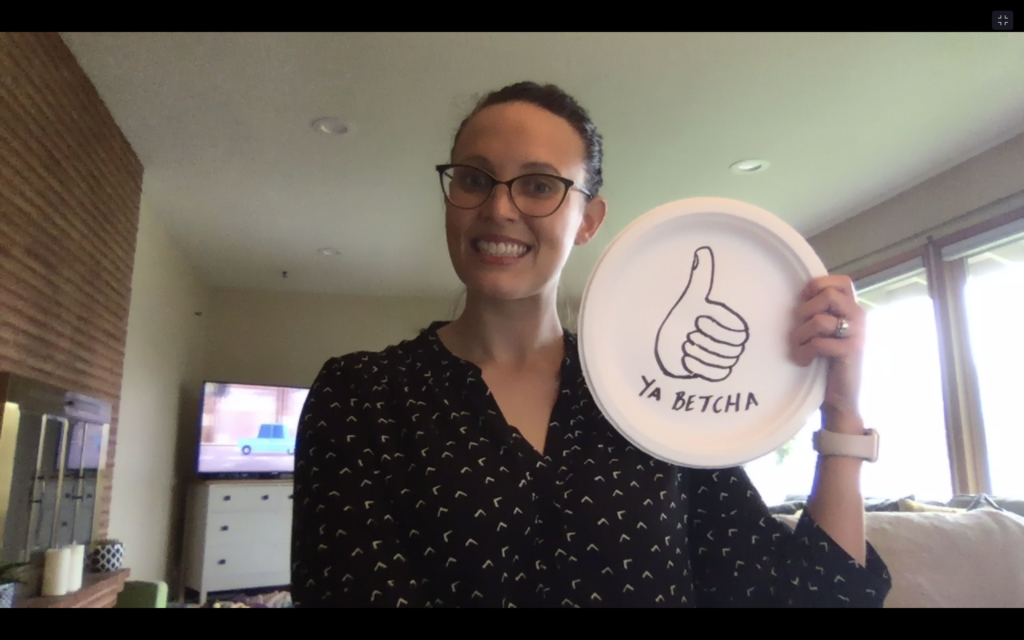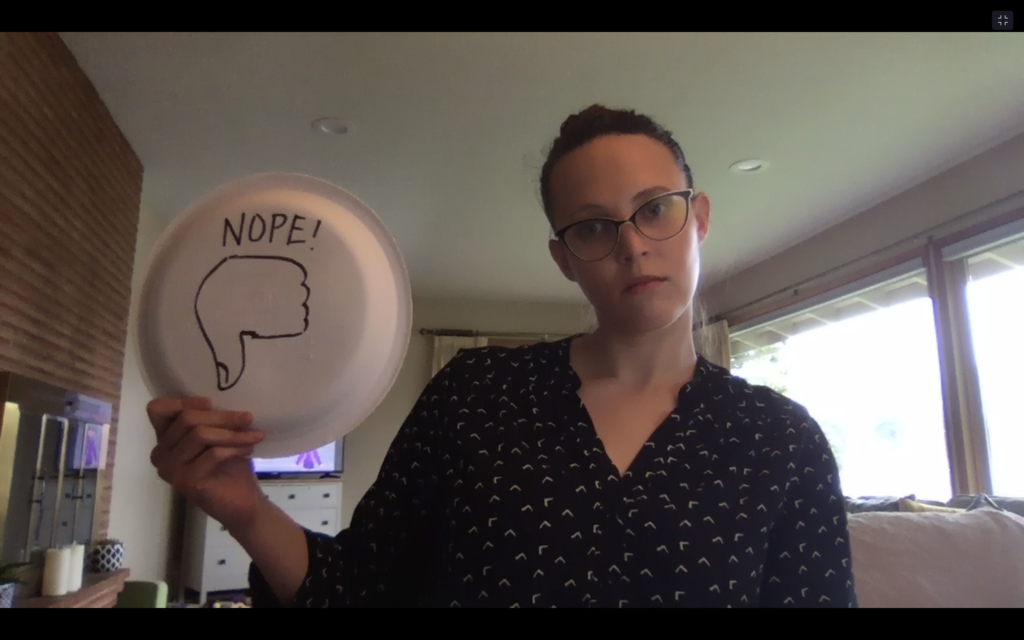 Raise your hand when you want to speak: Not talking over your coworkers is hard when you can't see each other. Try everyone being on video and have people raising their hands when they want to speak. Additionally, hand signals can be used to express agreement or disagreement so people aren't messing with the sound. 
Always have a meeting leader: the person who called the meeting should act as the meeting leader, calling on people and keeping things moving.
Use Zoom or Google Hangouts to connect with friends after work: This is huge. Spending time with the people we love is kind of why we're here on earth, and losing touch with them has been difficult for all of us. You can sign on to Zoom for free after work and have virtual happy hours (or virtual Happy 40 Minutes before they cut you off) or use Google hangouts and stay for as long as you like. No need to set a meeting leader on these, unless freaking Tara just anoints herself as usual. Tara, amirite?

These are just a few of the things that have helped us in this strange, unprecedented time. What's helped you? Let us know in the comments.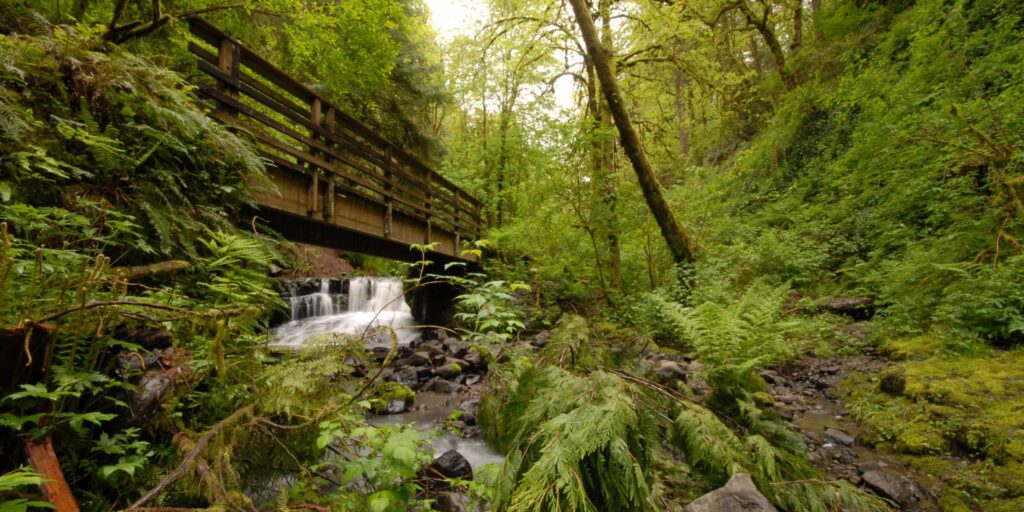 And one more tip…periodically, take a break and go outside. Those of us who live in Oregon are lucky enough to have to have some stunning outdoor spaces nearby, which are fine to explore as long as they're still open and you observe social distance rules. The sun is even showing up every once in a while, and we are here for it. 
Take care of yourselves.